CV for Artist Anna Todaro Sadur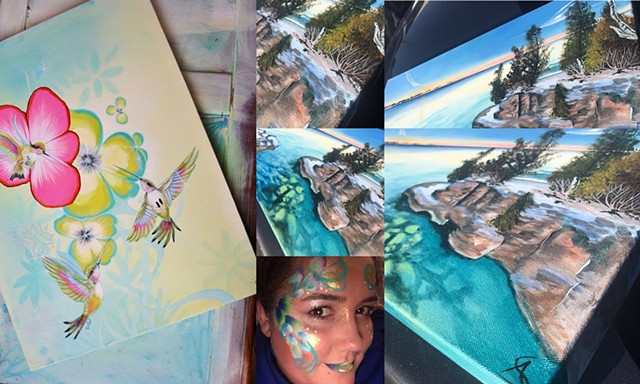 I currently am a Kenosha based Artist. I currently share a studio with my Mom in Twin Lakes. I live for Art and have been creating and selling art and prints since graduating with my BFA in 2004. I have lived in Portland, Oregon for 6 years and Pilsen in Chicago for another 5 years. I lived in Florence, Italy for 6 months on an Art scholarship in 2001. I have participated in countless local art shows including Portland Saturday and Astoria Sunday Market, the Renegade Craft Fair in Chicago, San Francisco and Austin, the Bucktown Art Show and Sell in Chicago and The One of A Kind Show in Chicago. I created a 20' temporary mural at Chicago's Navy Pier in 2012. I created the poster Art for Urban Craft Uprising in Seattle in 2012, I have been a part of Portland's Crafty Wonderland and Milwaukee's Art vs Craft and many more.
In 2012, after writing and illustrating 2 limited edition (500 copies/sold out) Picture Books, Everybody Can Hula Hoop But Me and Sillyface, I began a 1 girl face painting business which took care of me while at the same time, connected me in a deep way to the many different people and cultures all around me. During this time, I also attended the Pacific College of Oriental Medicine and received a degree in Clinical Massage Therapy and Asian Bodywork. I absolutely loved learning about Ancient Chinese Medicine and Five Element Theory. Face Painting and Massage Therapy combined together everything I loved about Art, Festivals, and helping the the world be a more connected and creative place. I have also recently become interested in the Earth based Jewish renewal movement and love reading Hebrew and Meditation.
In March, 2020, my fully booked 2020 face painting and massage season came to a screeching halt due to the Coronavirus pandemic. Because I was pushed off of this financial cliff, I started searching for a path forward. In May, 2020, I was accepted into the accelerated teaching program (ACT) through Carthage College and am now a paid student teacher in Racine on her way to receiving Teaching Licensure and a Masters Degree. Teaching is really turning out to be my true passion. While learning to teach, and to teach in an online only format, has been extremely difficult, I also really am enjoying the challenge. I think that I have a lot of life experiences and life long learning to share with my students. While my husband and I have not yet been able to crawl out of the giant financial hole 2020 has created, we are still here and are still hanging on and most importantly, we are still making Art!
Education
2020-2022
MEd Act Teaching Certification Program
Carthage College
Kenosha,WI
2013-2014
Certificate in Clinical Massage Therapy and Asian Bodywork
Pacific College of Oriental Medicine
Chicago, IL
2014-
Currently working on a Certification in Botanical Illustration
The Chicago Botanic Garden
Chicago, IL
2000-2004
BFA- Painting
Northern Illinois University
DeKalb, IL
2003 Summer Intensive
Seminar in Art Therapy
Southern Oregon University
Ashland, Oregon
2002 Summer Intensive
Accelerated Painting Workshop
The School of the Art Institute of Chicago
Chicago, IL
2001 Fall Study Abroad
The Lorenzo Di Medici Art Institute
Florence, Italy
1996-2002
The Protege Philharmonic Symphony Orchestra
Chicago, IL